MISSION AND PRINCIPLES
"DIGORE & PARTNERS" Law Office is one of the most experienced teams of lawyers and specialists of jurisprudence and economics. Our fundamental goal is to provide our clients with practical solutions, delivered with maximum speed and efficiency, no matter in what corner of the Earth the person is located.
A company's mission and principles are more than just a set of statements. A well-defined mission helps the company achieve its goals and continuously develop the reputation it aspires towards. We invite you to become acquainted with "DIGORE & PARTNERS" Law Office's mission and explore the principles that guide our practice.
"DIGORE & PARTNERS" LAW OFFICE'S MISSION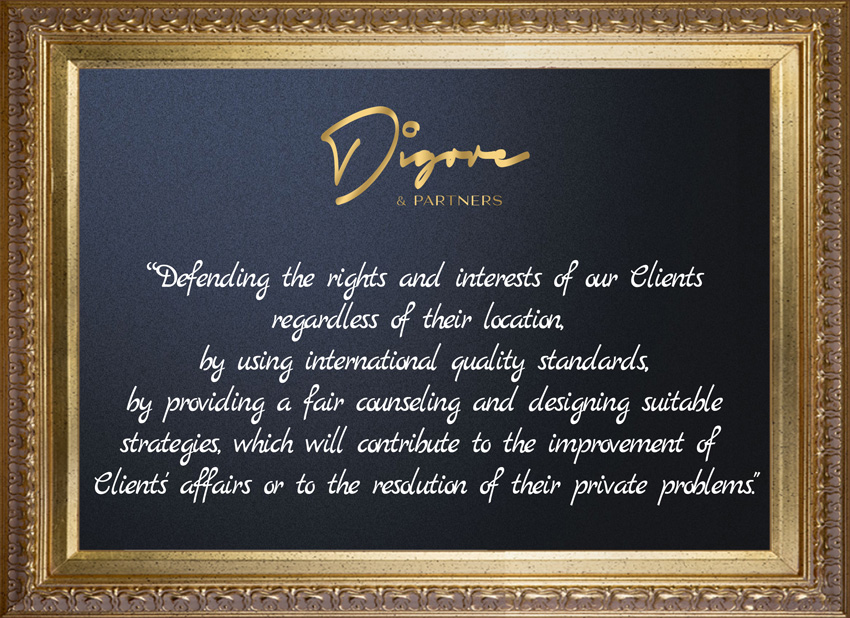 "DIGORE & PARTNERS" LAW OFFICE'S PRINCIPLES
1. Accountability.

A customer's trust is, first and foremost, a responsibility. The moment the client invests his trust in our team, we transpose into practice everything we promised, everything we committed to execute and protect. "DIGORE & PARTNERS" Law House approaches any difficulty and task arising from the client's case with utmost seriousness and dedication, because we realize in full the responsibility resting on our shoulders.
2. Diversification of activity objectives.
The services we provide are tailored to the needs of companies from the most diverse fields of activity, with various short and long term objectives, and at different stages of development.
3. Full satisfaction of customer requirements.
Being successful as attorneys doesn't mean everything to us. More precisely, we are satisfied only when the needs and expectations of our clients are exceeded by our practice.
4. Providing quality services.
"DIGORE & PARTNERS" Law Firm has an innovative legal and technological approach, being committed to meeting the highest quality standards. Thanks to the innovative approach to management and the use of technology, our attorneys offer clients exactly what they are looking for: prompt, sophisticated and advantageous legal assistance. Thanks to our innovative customer-oriented culture, we successfully maintain the high quality standards of our services and leadership.
Submit the form below and we will get back to you as soon as possible.
STATISTICS AND PERFORMANCE TOUCHSTONES